Posts for tag: tads
By Curt P. Posey, DDS, Inc.
July 13, 2018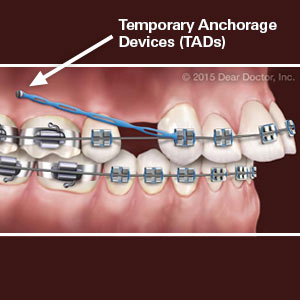 Orthodontics shares a principle with the classic tug of war game: if you want things to move in the right direction you need a good anchor. Anchors help braces and other appliances apply constant pressure to misaligned teeth in the direction they need to go to correct a malocclusion (poor bite).
Orthodontic treatments work in cooperation with an existing oral mechanism that already moves teeth naturally in response to biting forces or other environmental factors. The key to this mechanism is an elastic tissue known as the periodontal ligament that lies between the tooth and the bone. Besides holding teeth in place through tiny attached fibers, the ligament also allows the teeth to move in tiny increments.
Braces' wires laced through brackets affixed to the teeth exert pressure on them in the desired direction of movement –the periodontal ligament and other structures do the rest. To maintain that pressure we need to attach them to an "anchor"—in basic malocclusions that's usually the back molar teeth.
But not all malocclusions are that simple. Some may require moving only certain teeth while not moving their neighbors. Younger patients' jaws and facial structures still under development may also need to be considered during orthodontic treatment. That's why orthodontists have other anchorage methods to address these possible complications.
One example of an alternate anchorage is a headgear appliance that actually uses the patient's skull as the anchor. The headgear consists of a strap running around the back of the head and attached in front to orthodontic brackets (usually on molar teeth). The pressure it exerts can trigger tooth movement, but it can also help influence jaw development if an upper or lower jaw is growing too far forward or back.
Another useful anchorage method is a tiny metal screw called a temporary anchorage device (TAD) that is implanted into the jawbone above the teeth through the gums. Orthodontists then attach elastic bands between implanted TADs and specific braces' brackets or wires to exert pressure on certain teeth but not others with pinpoint accuracy. After treatment the TADs can be easily removed.
Using these and other appliances allows orthodontists to customize treatment to an individual patient's particular malocclusion. With the right anchor, even the most complex bite problem can be transformed into a beautiful and healthy smile.
If you would like more information on orthodontic treatment, please contact us or schedule an appointment for a consultation. You can also learn more about this topic by reading the Dear Doctor magazine article "Orthodontic Headgear & Other Anchorage Appliances."
By Curt P. Posey, DDS, Inc.
October 11, 2013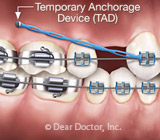 Technology for orthodontic treatments has evolved tremendously over the years. There are now more options than ever before for those seeking to straighten their teeth or fix bite issues. One of those revolutionary options is TADS (Temporary Anchorage Devices), mini-screws that can be used to more accurately control the movement and positioning of your teeth.
So, how do TADS work? Well, these very small screws are temporarily placed into the bone of the jaws to be used as non-mobile anchor units to facilitate tooth movement. They can be removed once the desired movement is complete. In addition, they can be placed using simple local anesthesia (numbing shots in the area).
The procedure is actually quite simple. After numbing the area where the TAD is to be placed, we will use gentle pressure to insert it through the gums and into the bone of your jaws. You may feel some slight pressure during the insertion, but no pain. Following the procedure, you may also feel a bit of pressure and sensitivity for one to two days, but many people experience no side effects at all. As the name suggests, TADS are temporary and usually removed after a few months, though length of time varies. Again, removing TADS also involves a quick and painless procedure.
TADS have been around for a long time, but recent refinements in the design and application procedure have allowed for more widespread use in the orthodontic office. TADS can be used for many different reasons, including eliminating the need for cumbersome appliances, such as headgear. They also offer a great way to reduce orthodontic treatment time. Finally, they allow certain cases to be treated that were nearly impossible before this technique was refined.
If you would like more information about TADs, please contact us or schedule an appointment for a consultation. You can also learn more by reading the Dear Doctor magazine article "What are TADs?"