Posts for: February, 2019
By Curt P. Posey, DDS, Inc.
February 18, 2019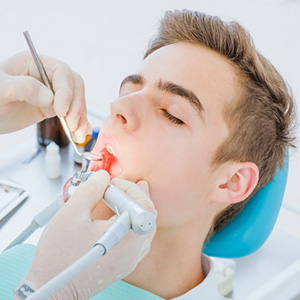 Long ago dental work could be painful and stressful—often for both patient and practitioner. Thankfully, that time is long past: today, most procedures are painless in large part due to local anesthesia.
Local anesthetics are numbing substances applied to specific areas of the body like the teeth and gums to temporarily block pain during a procedure. And because they only affect a localized area of the body, you remain conscious and alert throughout the procedure.
To achieve the level of numbing necessary for dental work, we often need to deaden the gums using a needle to deliver the anesthetic. But then this poses a secondary pain concern—the needle stick itself.
Again, topical anesthesia comes to the rescue in the form of a swab, patch or spray applying an anesthetic directly to the top layer of the gums at the injection site. This numbs the area and prevents you from feeling the needle stick. It's highly probable, therefore, that from start to finish you won't feel any discomfort during your dental work except perhaps for a little pressure.
Local anesthesia truly is a game changer for dental care—and not just for the patient. A dentist who's concerned about their patient's comfort level may work hurriedly to complete a procedure. But if their patient is relaxed, the dentist can work calmly and methodically. The result is better, more focused care.
For all its improvements in the patient experience, though, there has been one consistent complaint—the numbness that often lingers for a while after the procedure is over. But there have been advances in recent years that have helped reduce this irritation: new anesthetic agents (even some that can reverse the anesthetic effect) and fine-tuned dosages can help keep residual numbing to a minimum.
Not all procedures like routine teeth cleanings or enamel shaping require anesthesia. But when it's appropriate, local anesthesia can make your next dental visit much more pleasant.
If you would like more information on how anesthesia benefits your dental care, please contact us or schedule an appointment for a consultation. You can also learn more about this topic by reading the Dear Doctor magazine article "Local Anesthesia for Pain-Free Dentistry."
By Curt P. Posey, DDS, Inc.
February 08, 2019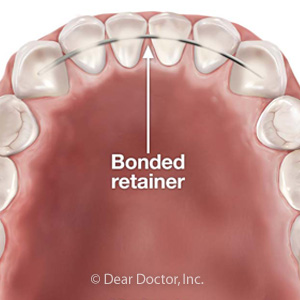 The braces are finally off! But to keep your new, straighter smile you'll need to wear a retainer for some time. That's because the same structural mechanism used to move your teeth could undo what we've just accomplished.
That mechanism resides in an elastic tissue called the periodontal ligament that lies between the teeth and the bone and attaches to both with tiny fibers. While the ligament holds the teeth securely in place, it also allows for slight movement in response to bite changes. Braces "pull" the teeth in the desired new direction, and the ligament responds.
But with that pressure gone after the braces' removal, a kind of "muscle memory" can set in that moves the teeth back towards their original positions. A retainer, a dental appliance worn on the teeth, exerts just enough pressure to "retain" or keep the teeth from regressing.
Retainers are effective, but the most common type has a feature that poses potential problems: it can be removed by the wearer. Because of this, less disciplined patients might be tempted not to wear their retainer as directed. There's also a higher risk of losing one and incurring additional cost to replace it.
But there is another type, the bonded retainer, which stays permanently in the mouth until removed by an orthodontist. It's composed of a thin piece of metal that's firmly attached to the back of the teeth with dental composite material. Not only does a bonded retainer solve the problems mentioned before, it also can't be seen from the outside like a removable retainer.
A bonded retainer does have one disadvantage: because it can't be removed, it can obstruct the teeth during brushing and flossing and require more effort. You won't have as much difficulty with a removable retainer keeping teeth and gums clean. You can overcome this disadvantage, though, with specialized tools like a water flosser or a floss threader to make hygiene easier.
To choose which type of retainer is best for you or your family member, have a talk with your orthodontist. And if you choose a bonded retainer and later have it removed, be sure to switch immediately to a removable one if your orthodontist advises. With either retainer, you'll be able to preserve that hard-earned smile for years to come.
If you would like more information on bonded retainers, please contact us or schedule an appointment for a consultation. You can also learn more about this topic by reading the Dear Doctor magazine article "Bonded Retainers: What are the Pros and Cons."